Caller Id for your email. Easily identify:
Label all past emails
Auto label new, incoming emails
Label emails by domain or email recipient
Organize your inbox with just a few clicks

Install Gmail Auto Label
Integrated into Gmail No extra software!

Gmail Auto Label automatically filters and labels your emails so that you can always stay organized in your inbox.
Fully Integrated With Gmail
Gmail Auto Label by cloudHQ is fully integrated with your Gmail inbox. You don't have to download anything to your hard drive. Everything works directly within Gmail.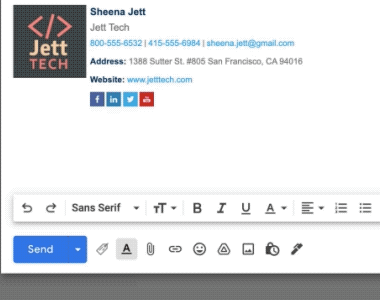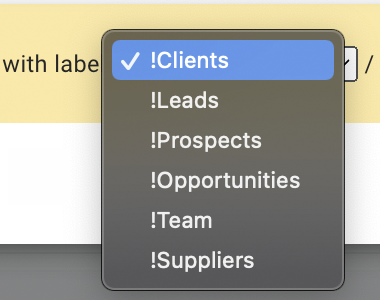 Label Your Emails into 6 Categories
You'll be able to label your emails into 6 categories:
Clients
Leads
Opportunities
Prospects
Team
Suppliers
Gmail labeling your emails by person lets remain ready for anything regarding that client.
Easily Categorizes All Emails From One Person or Domain
You'll be able to automatically label any emails coming from a certain person or domain. This helps you find emails that you need quickly, and lets you stay on top of anything thrown your way.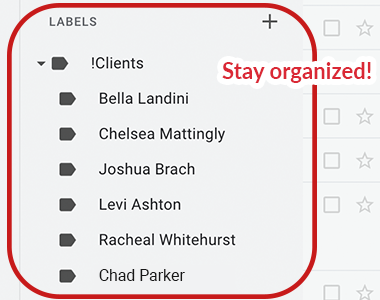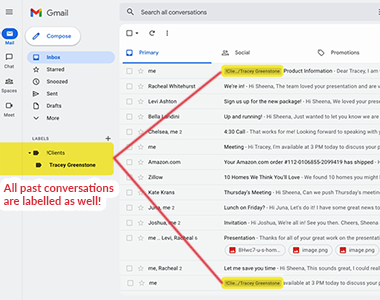 Labels All Past Emails Too
Getting all of your incoming emails organized with a filter and labeled is one thing, but getting all of your past emails organized is on another level; and just what we do. When you auto-label emails from an email address or a domain, all your past conversations that match that email address or domain will also get labeled. You will never be looking for another email again.
Near Universal 5-Star Ratings
Gmail Auto Label by cloudHQ has almost universal 5-Star ratings from users who've downloaded it in Chrome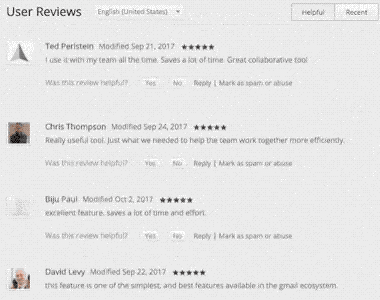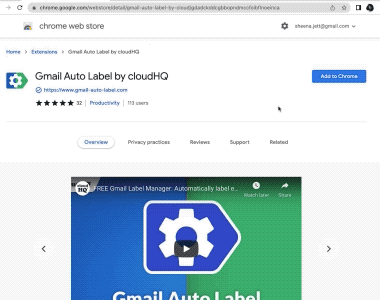 Installs in Seconds
Install Gmail Auto Label by cloudHQ from the Chrome Web Store. Once installed, the app will seamlessly integrate into your Gmail or G Suite email account.
Install Gmail Auto Label
---
Who Uses Gmail Auto Label?
Sales Professionals
Identifying where you are in the sales funnel helps you stay on top of your number projections, and helps you secure more sales because it always looks like you're hyper organized. Sales professionals will greatly benefit from being able to respond first and to respond helpfully.


Business Owners
This is an excellent way for you to keep track of your sales funnel, suppliers and your employees; whether they're internal or contractual. Having a clear and organized way to see all past conversations by category helps you manage your company well.
Lawyers
This keeps track of all the emails you receive by client, helping you stay on top of your cases and your communications. Email is by far the only clear way to communicate with your client, and we know you feel its pain. Clean it up with this app and simplify your life.


Team
It's really helpful to pay attention to inter-office communications so that you can respond to them in a timely manner. It's especially helpful if your inter-office email is urgently notifying you of something important, like a last minute meeting where you're supposed to present a report to management. Paying special attention to inter-office communication is just good common sense.
Recruiters
Keeping track of talent is a big job! Use Gmail Auto Label to know how far along a candidate has come through the process of placing them in a position.


Executives
Executives have very little time to waste sorting through their inbox. If a large company emails them and they don't respond in a timely manner, that could be a detrimental loss of opportunity.
Customer Service Representatives
If you're in customer service, you'll want to know all past emails with a specific client. This helps you stay organized and lets you be as responsive as possible; making the client feel important and pleased with your service.